Summer Holiday DVD DV 11563
The Story is about Cliff and a trio of his mates, all London Transport trainees, Setting off for a Continental holiday on a duble-decker kindly lent by L.T. En routh through France, Swizerland,Austria and Yugoslavia, they pick up three girls - whose lilac jalopy abligingly falls to pieces just as the boys are singing 'Let Us Take You For A Ride' - and a runaway American girl Pop star (Lauri Peters), Whose showbiz mama is soon in hot pursuit. It's not simply that everyone on the screen is obviously having a good time - the teamwork, as in The Young Ones, gives the kids a good-natured tolerance which young film-

goers especially seem to like - but the deftness of the production numbers is a surprise to anyone who felt British musical couldn't do it.This One does. Cliff, well-supported by haystack-haired Melvyn Hayes, has only to dance and sing his way throught a French park for all the black-shawled flower-sellers to turn intolively beauties: the boys have only to mime their defence in front of a French magistrate for acquittal to follow; and the gang have only to stop in a Swiss Alpine town to discover the delights of al fresco waltzing. Summer Holiday delivers what is Promises: a tuneful Pop operetta for young people made by slightly older people who can still remember what is was like to be a teenager in love.

Tracks Are: Seven Days To Our Holiday/Summer Holiday/Let Us Take You For
A Ride/Les Girls

(The Shadows)

/Round And Round

(The Shadows)

/Foot Tapper


(The Shadows)

/Stranger In Town/Orlando's Mime/Bachelor Boy/A Swingin' Affair/
Really Waltzing/All At Onece/Dancing Shoes/Yugoslav Wedding/The Next Time/
Big News.
The Young Ones DVD DV 11662
The First film ever to have three hits in the Top Ten. Convinced a youth club is a beatnik haunt, a property tycoon decides to tear it down. But young ones shouldn't be afraid to live, love - While the flame is strong. Or they may not be the young ones very long! So Cliff Richard stages a teen musical proving dance steps are the only kicks his rebe! set want. The Story is about some young kids who Club house is goes to be close down for good since Nicky (Play by Cliff). father was go to build a big office build. But Nicky try to help save the Club House.

Tracks Are: Friday Night/Got A Funny Feeling/Peace Pipe

(The Shadows)

/
Nothings's Impossible/The Young Ones/All For One/Lesson In Love/
No One For Me But Nicki/What Do You Know We've Got A Show-Vaudeville Routine/When The Girl In Your Arms/Mood Mambo/The Savage

(The Shadows)

/
We Say Yeah.
Wonderful Life DVD DV 11942
Summer in the City and Cliff Richard is On The Beach for another holiday.
It's Paradise a Go-Go when four ship entertainers are hired to star in a movie shot on African Locations. But as the director is a stuffy old-timer, the Summer Set secrety attempt filming their own version. Cliff combs his hair, combs the beach and spoofs the History of Cinema in the Sunniest seaside spectacular.

Tracks Are: Wonderful Life/A Girl In Every Port/Walkin'

(The Shadows)

/
A Litlle Imagination/Home/On The Beach/In The Stars/We Love A Movie/
Do You Remember/What've I Gotta Do/Theme For Young Lovers

(The Shadows)

/
All Kinds Of People/A Matter Of Moments/Youth And Experience.
---
| | | |
| --- | --- | --- |
| | Europe | |
---
Release Information:
Studio: Optimum Home
DVD Release Date:xxxxxxxxxx
Run Time: 315 minutes
Edition Details:
• PAL Region 2 encoding (Europe,Middle East,Japan)
• Number Of Discs: 3
• Bar Code: 5 060034 576761

Sing A Long Collection (DVD) OPTD0623

"The Young Ones"."Summer Holiday"."Wonderful Life". Optimum Home
Release Information:
Studio:Warner Home Video
DVD Release Date: xxxxxxxxxxxx
Run Time: 317 minutes
Edition Details:
• PAL Region 2 encoding (Europe,Middle East & Japan)
• Number Of Discs: 3
• Catalogue Number: D038471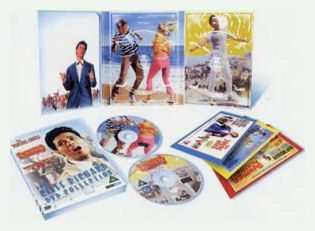 © Copyright: 2000 - Ulla Sorensen